Technologies / PSA – Visma Severa
Field-specific Visma Severa development projects and implementations
PSA field's most proficient pro at your service!
Askele Oy is Visma's trusted partner in accelerating clients' Visma Severa usage. We have helped hundreds of Visma Severa users improve their business processes and everyday software use.
Professional, automated, and smooth routines
To gain the added value available from Visma Severa, it is crucial to figure out what your company's expectations are from PSA systems. We will help you identify the goals on which the consistent and motivating PSA culture of your company will be based. Together we will design everyday routines for Severa usage – acknowledging each employee group's needs and responsibilities.
Fast and profitable results
The development project's outcome will be an explicit view on which KPIs to follow, and what are the daily routines necessary for each employee group. When Severa is used efficiently, we can maximize automation and create reliable reporting as well as visual and user-friendly interfaces.
Each project is designed with the client's unique goals and specific requirements in mind!

Current use of Visma Severa vs. your goals
Utilizing the full potential and automation of the system
Our views of industry best practices
Concrete proposals for developing your Visma Severa use
What can Visma Severa do for your company?
Sales
Sales and customer relations have important roles in project business. Systematic routines, transparency and a PSA software that supports sales personnel's work accelerate business growth and guarantee excellent results.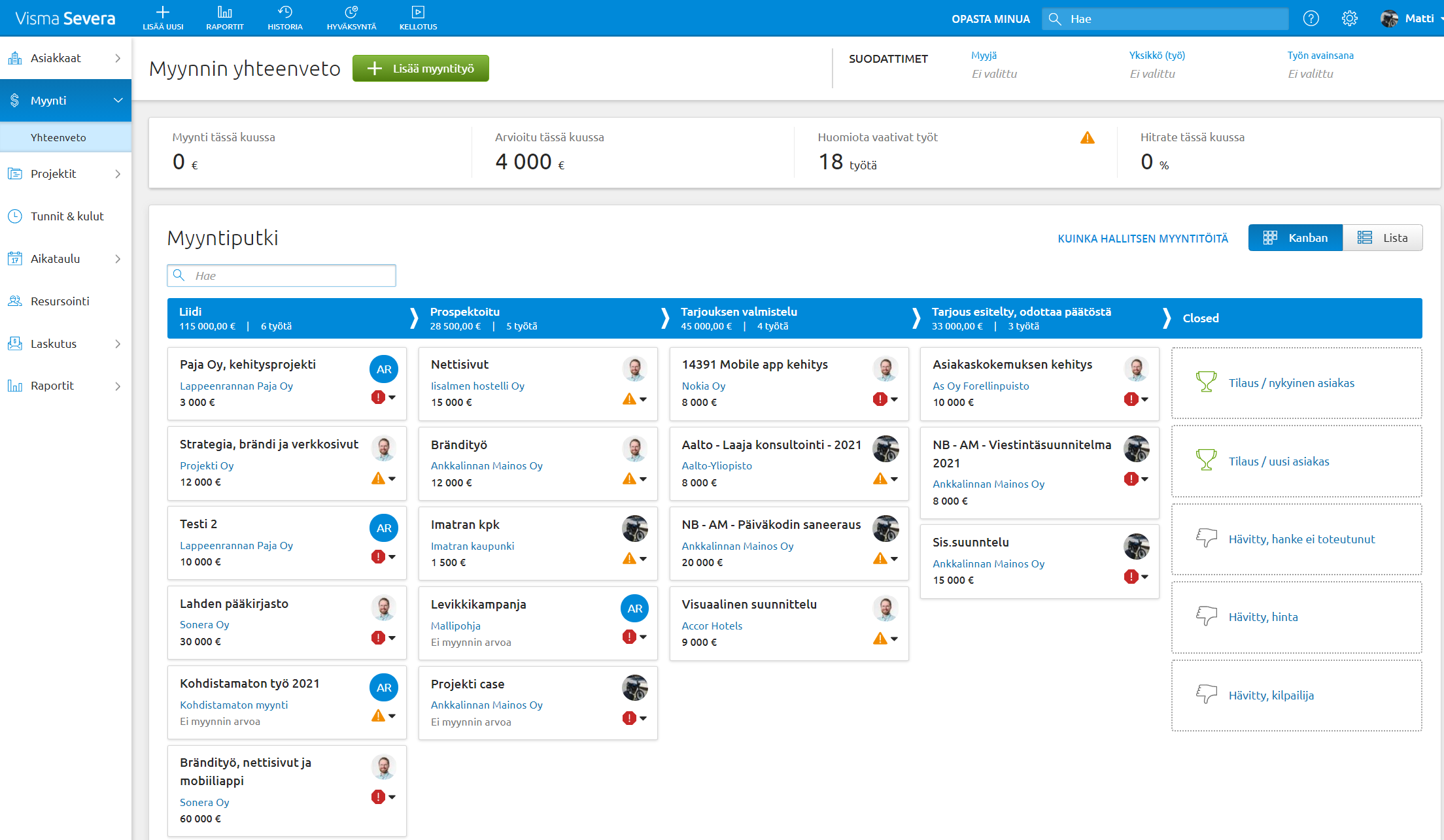 Client Manager / Project Leader
Professional project management forms the bedrock for successful business. Using software that supports the duties of project leaders and client managers creates a basis for profitable high-quality projects.
Management
Managing a business requires up-to-date reliable data of sales and projects, as well as profitability and team productivity. Visma Severa reporting collects the data for you!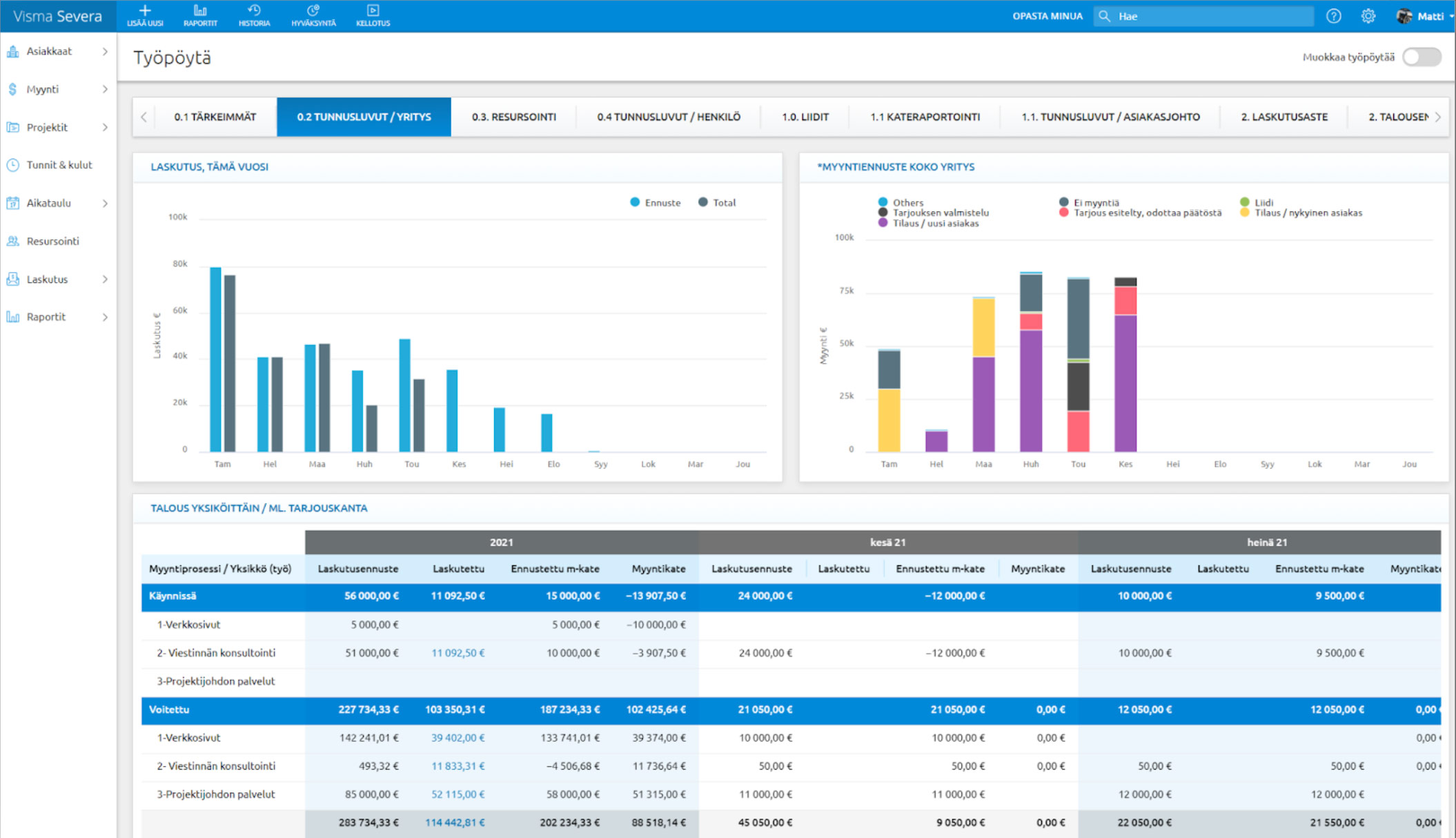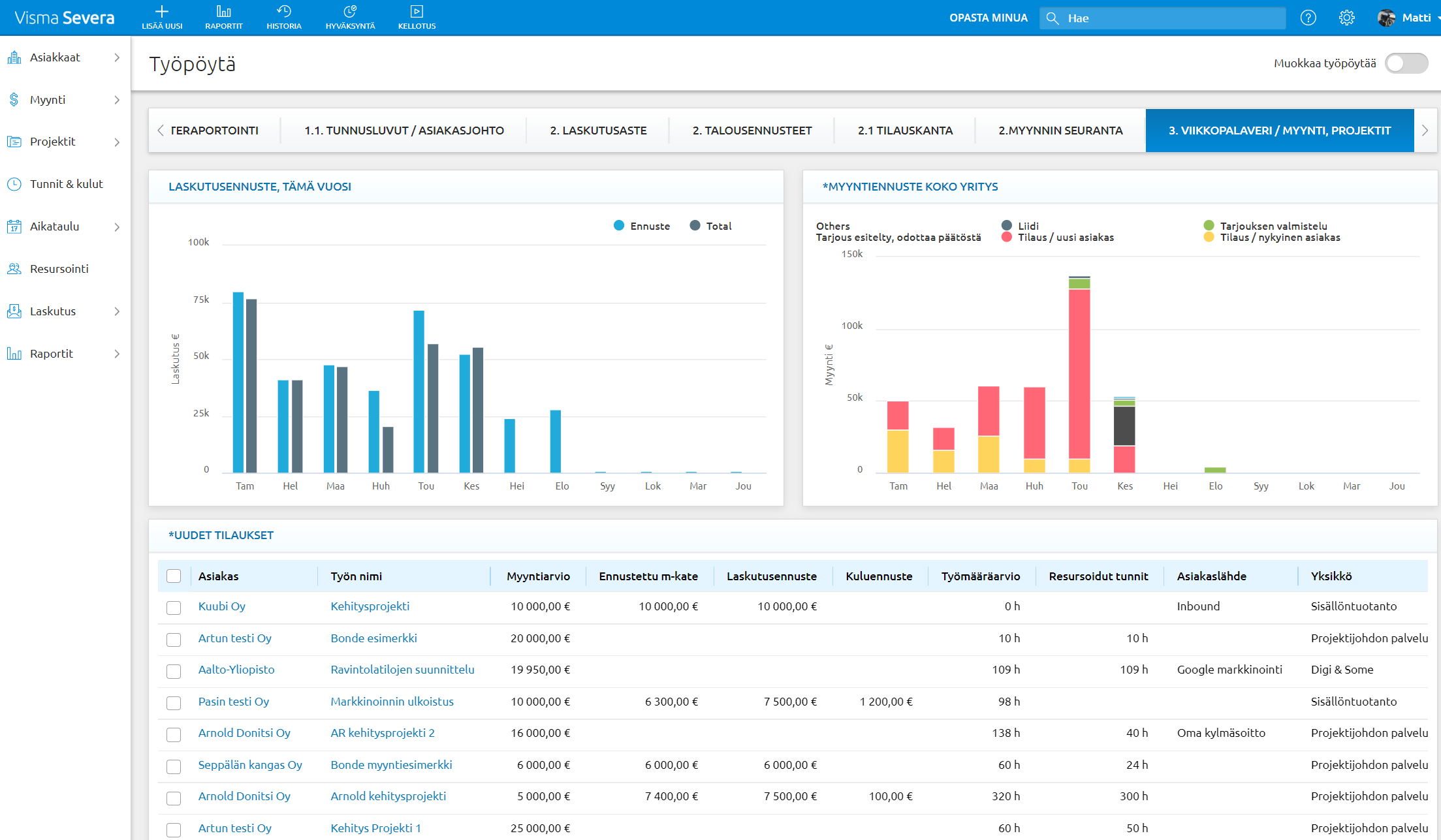 CFO
Financial management is usually largely responsible both for the state and the numbers of different business operations. Visma Severa allows you to modify reports to indicate the data you consider necessary, which automates and adds reliability to controlling business finances.
Designer, Consultant
Visma Severa provides several options for tracking time and absences. You can choose mobile tracking or use the timing feature, whichever suits you best. Knowing your flextime and your productivity helps you plan all your activities!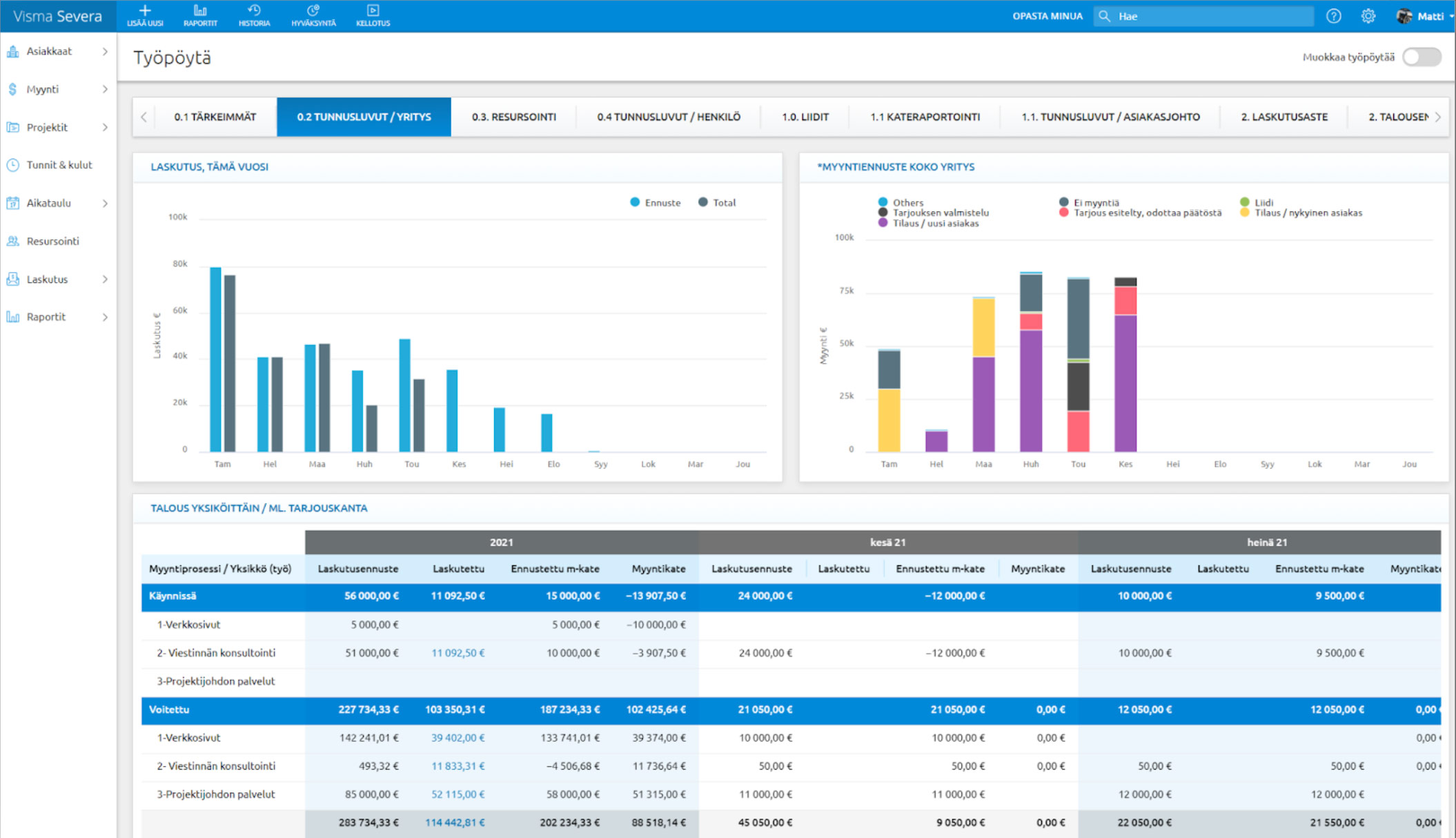 Development Project Goals
Consistent and measurable methods
We help your management create reliable indicators and consistent methods for your business processes. Consistency helps people understand how and why work hours are reported, which details should be updated in project management, and what is the necessary accuracy of sales and invoicing forecasts.
Better predictability
Managing the future in the business of professional services is dependent on availability of sales and invoicing forecasts as well as their accurate content. We design forecast models to help you significantly accelerate your sales, recruitment process, and financial administration.
Bedrock for profitable business
Companies should always recognize the services and clients that possess prospects for continuous success and business growth. At the same time it's important to improve the services that fall short of their set goals. We help you identify and create segmentation that can be used to systematically control margins and build a solid bedrock for improving profits.
Skillful software usage
It is extremely important to provide professional training for all users on processes as well as software usage. Management chooses what the key indicators will be, and our experienced specialists provide efficient basic and advanced trainings to make everyday software usage smooth for sales, project management and workhour tracking.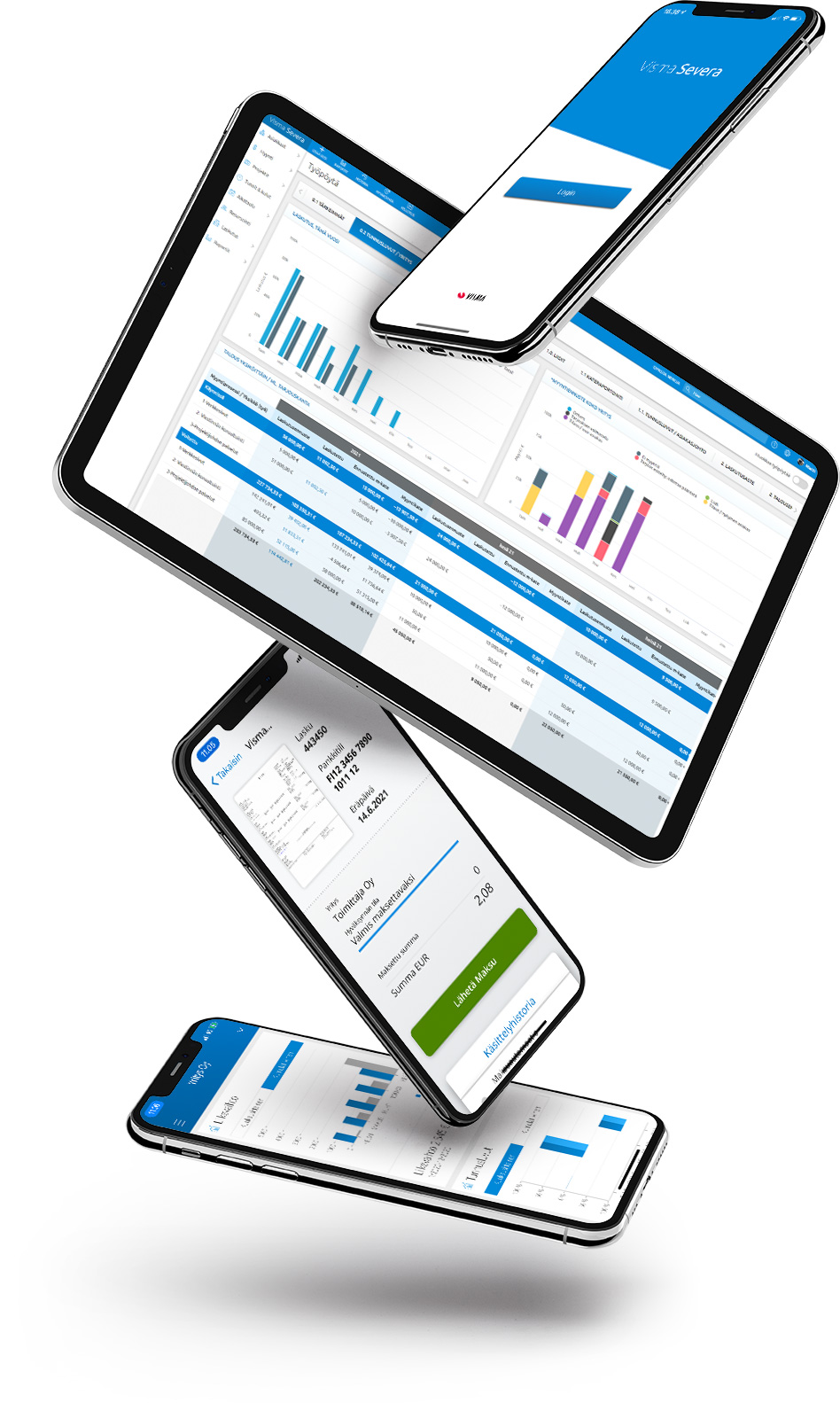 "Askele's expertise was invaluable" Sigge Architects' system and process development project ran very smoothly. The predictability of their business and project management improved significantly. Sigge Architects had already been considering options and defining their...
Contact the Askele Team
Please contact our specialists by filling in the form. We'll get back to you in no time.