Experienced Pro in professional services automation
Functional business planning solutions to support profitable growth
We have fourteen years of experience in helping Finnish professional service companies utilize PSA software to upgrade their profitable growth.
Our specialty is designing field-specific solutions to accelerate sales, project managament, time tracking and financial administration. We have helped Finland's leading advertising and communications agencies and growing ICT enterprises as well as some of the most well-known architecture firms, and they all recommend our services.
We always operate on state-of-the-art, cloud-based technology solutions and we do know them in detail. Our strong expertise in business strategy combined with the use of field-specific technologies brings superior preparedness for growth for our clients, improving their profitability and streamlining their business processes.
Business Design & Technology united
Successful CRM/PSA development projects
Experience in professional services automation
Dynamic consultant experts
"Askele's expertise was invaluable" Sigge Architects' system and process development project ran very smoothly. The predictability of their business and project management improved significantly. Sigge Architects had already been considering options and defining their...
We are proud of the success of our client projects
We started our collaboration with Askele two years ago to improve the business operations of the firms in our industry.
With a partner like Askele we can offer training to our members on how to create competitive capacity by increasing automation and improving project and financial management. I honestly believe that the whole industry will benefit from our collaboration!
I was positively surprised by Askele's knowledge of the industry, the implementation of the development project and the end result. I was prepared for a delay in action through new ways of working and tools, but nothing like that has happened. This certainly reflects the success of the software selection and Askele collaboration!
Askele played a significant role in the implementation of our new ERP system. Without some expert and helpful help, deployment would have been slower and we would not have been able to reap the benefits so quickly.
We are very satisfied and I recommend Askele to other consulting agencies as well!
Development Project Goals
Consistent and measurable methods
We help your management create reliable indicators and consistent methods for your business processes. Consistency helps people understand how and why work hours are reported, which details should be updated in project management, and what is the necessary accuracy of sales and invoicing forecasts.
Better predictability
Managing the future in the business of professional services is dependent on availability of sales and invoicing forecasts as well as their accurate content. We design forecast models to help you significantly accelerate your sales, recruitment process, and financial administration.
Bedrock for profitable business
Companies should always recognize the services and clients that possess prospects for continuous success and business growth. At the same time it's important to improve the services that fall short of their set goals. We help you identify and create segmentation that can be used to systematically control margins and build a solid bedrock for improving profits.
Skillful software usage
It is extremely important to provide professional training for all users on processes as well as software usage. Management chooses what the key indicators will be, and our experienced specialists provide efficient basic and advanced trainings to make everyday software usage smooth for sales, project management and workhour tracking.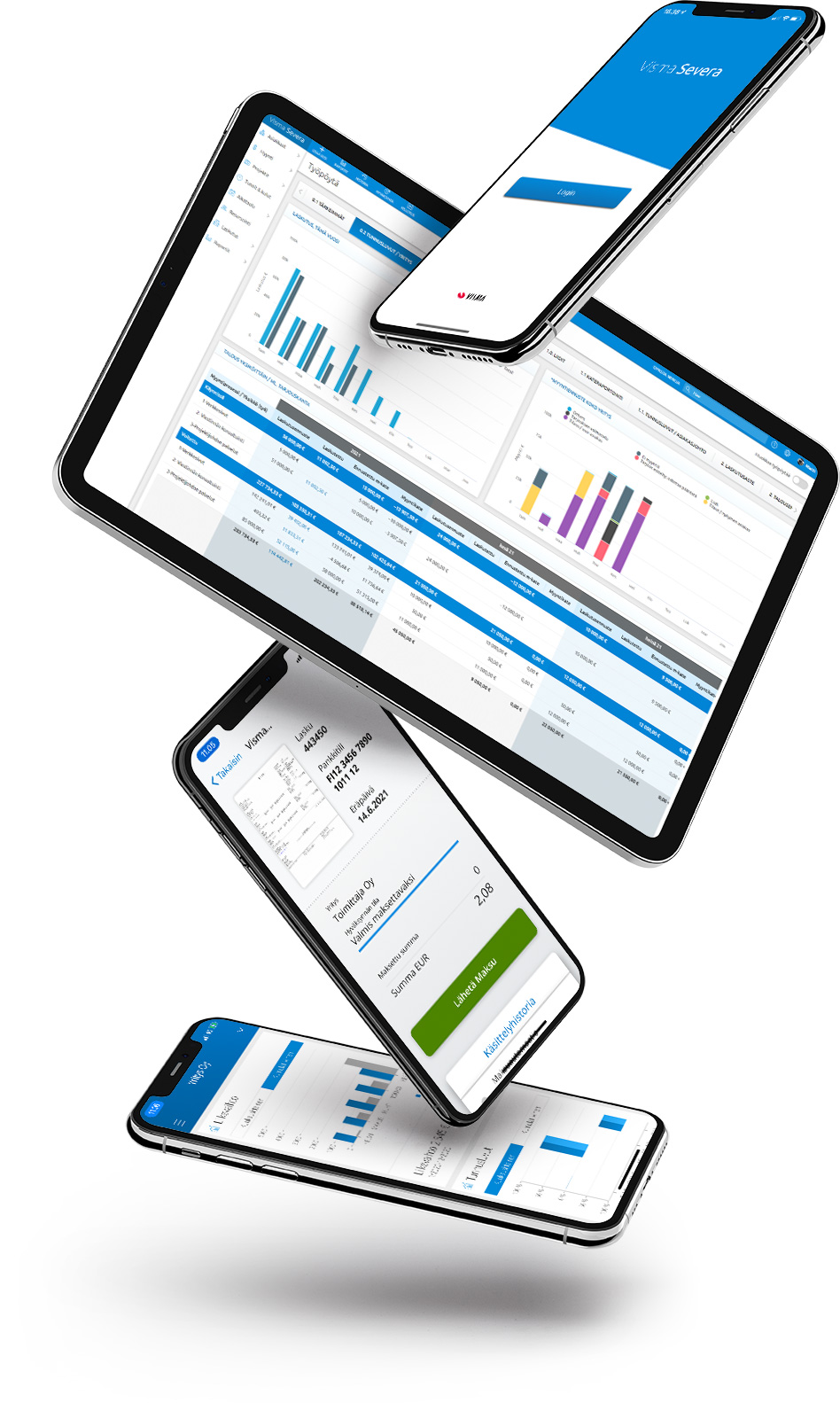 Visma Severa is popular ERP software for managing the projects and sales of specialist companies. Visma Severa is widely used in the Nordics, it has over 2,000 cutomers internationally.
Askele is the most experienced partner on the market with experience of more than 700 Visma Severa implementation and development projects.
Contact the Askele Team
Please contact our specialists by filling in the form. We'll get back to you in no time.